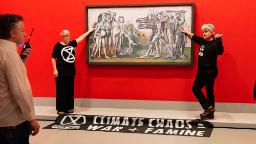 Victoria police said they believe the protesters entered the ground level of the gallery before a man and woman glued themselves to the covering at around 12:40 p.m. local time.
The 49-year-old woman from the state of New South Wales and a 59-year-old man from the Melbourne suburbs were removed from the painting just after 2 p.m.
The two were arrested, as well as a 49-year-old man, according to Victoria police.
Extinction Rebellion said no art was harmed in the incident.
Based on years of research from hundreds of scientists, the report found that the impacts from human-caused climate change were larger than previously thought, with the report's authors warning these impacts are happening much faster and are more disruptive and widespread than scientists expected 20 years ago.
Those who contribute the least to the problem are the worst affected, experts added in the report.
Read the original article