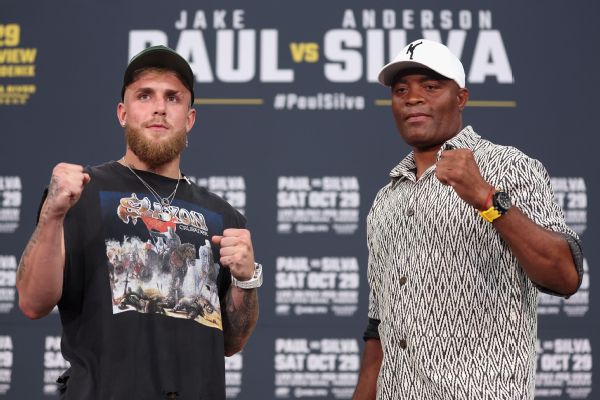 GLENDALE, Ariz. — Jake Paul and Anderson Silva agreed to an unorthodox bet two days before they are set to meet in a boxing match.
Paul proposed to Silva on Thursday at the prefight news conference that if Silva wins, Paul will do a rematch with the UFC legend in a kickboxing match. Paul first offered MMA, but Silva said he doesn't fight in MMA anymore. If Paul wins, he said Silva must help him start an association for UFC fighters.
Silva agreed if it included all MMA fighters, and the two stood up, met in the middle of the stage and shook on the bet.
"If I win, me and you come together to create a united fighters' association to help UFC fighters get better pay and better health care," Paul said. "You become the interim president. We unite to help these fighters once and for all."
There actually already is a similar association in MMA, the MMA Fighters Association (MMAFA), which has worked on an antitrust lawsuit against the UFC and getting boxing's Ali Act protections extended to MMA.
Paul and Silva are scheduled to fight each other Saturday at Desert Diamond Arena. The fight itself, like the bet, is unconventional. Paul, 25, is a YouTube star who has built himself into a bankable boxing star, going 5-0 with four knockouts. Three of his victories have come against UFC veterans.
Silva, meanwhile, is 47 and the former longtime UFC middleweight champion, one of the greatest MMA fighters of all time. Silva is only 2-1 as a pro boxer, but he owns a win over former world champion Julio Cesar Chavez Jr.
Silva's status as one of the all-time greats in MMA is why Paul said he wants him to be part of a fighters' association. Paul has spoken often about MMA fighter pay and the need for health care over the years.
"The fighters need to band together and Anderson is the perfect guy," Paul said. "He's all of our idols, every fighters' idol. So, he would be a very powerful figure. This type of thing just needs to happen for fighters."
Several of Paul's fights have included wagers. When Paul beat Tyron Woodley in August 2021, Woodley lost a bet that forced him to get a tattoo of Paul's name somewhere on his body. Woodley chose the middle finger of his left hand.
Paul said he was surprised Silva agreed so quickly to the deal. He said he's even more motivated now, because he wants to start a fighters' association — and doesn't really want to fight Silva in a kickboxing match in which Silva would have a huge advantage. The odds for the fight Saturday are very close, with Paul a very slight favorite.
"It's not gonna be just a couple fighters who are gonna be able to pull this off," Paul said of a fighters' association, which he eventually wants to extend to boxers, too. "But he's a legend, right? He's one of the most respected ever. And that's important. I think a lot of fighters have animosity towards me, so they might not listen to me. So, I need help in getting this done."
Read the original article