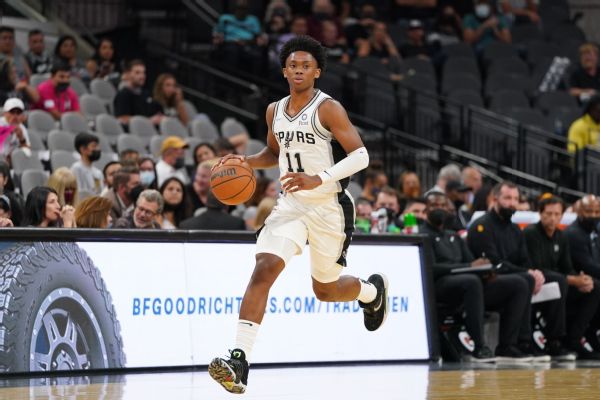 The San Antonio Spurs suddenly waived 2021 lottery pick Joshua Primo on Friday, the team announced.
"It is our hope that, in the long run, this decision will serve the best interest of both the organization and Joshua," Spurs CEO RC Buford said in a statement.
Primo, the No. 12 overall pick in the 2021 NBA draft, was waived two weeks after the Spurs exercised the third-year option in his contract guaranteeing his $4.3 million salary for the 2023-24 season.
The news comes a year after the Spurs also parted ways with forward Luka Samanic, who San Antonio had drafted with the No. 19 pick in the 2019 NBA draft.
Primo, 19, averaged 5.9 points in 54 career games for the Spurs, including 16 starts as a rookie. He played in the Spurs' first four games this season, averaging 7.0 points off the bench.
Primo did not play in Wednesday's road loss to the Minnesota Timberwolves and was listed as out for Friday's home game against the Chicago Bulls before being waived about an hour before tipoff.
The ailment cited on the league's official injury report was "Left Glute; Soreness."
Read the original article