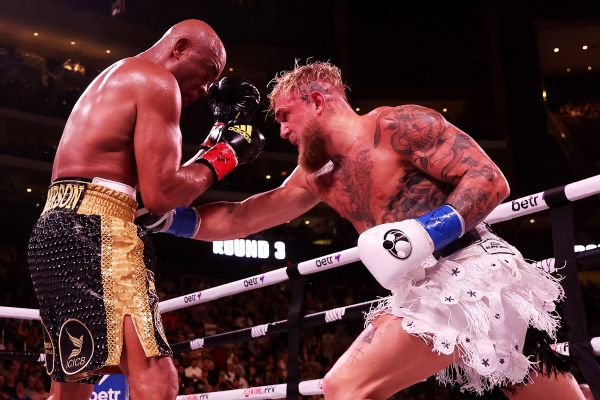 GLENDALE, Ariz. — Jake Paul's inexplicable boxing résumé now includes a win over one of the greatest MMA fighters of all time.
Paul, the YouTube-star-turned-prizefighter, beat former longtime UFC middleweight champion Anderson Silva by unanimous decision (77-74, 78-73, 78-73) Saturday night here at Desert Diamond Arena. The bout was very competitive, but Paul pulled away late and sealed the victory by dropping Silva in the eighth round with a right hand.
Paul described beating Silva, someone he was a big fan of as a kid, as "surreal."
"He was my idol growing up," Paul said. "He inspired me to be great."
This was the toughest matchup so far for Paul, the 25-year-old social media maven. Silva is 47 years old but had solid boxing performances, including a win over former world champion Julio Cesar Chavez Jr., after leaving the UFC in 2020.
Paul (6-0) now owns victories over three UFC fighters: Silva, former welterweight champion Tyron Woodley (two wins, including a knockout) and Ben Askren.
Afterward, Paul called out another UFC luminary: Nate Diaz, who was in attendance supporting his teammate Chris Avila, who competed on the undercard. Diaz and his team and members of Paul's team had an altercation backstage with drinks flying in both directions earlier in the night. Diaz became a free agent after his fight last month at UFC 279.
"Nate Diaz, stop being a b—- and fight me," Paul said.
Silva started strong with some vintage "Spider" moments, including dropping his hands and egging Paul on in the second round. Silva threw a lot of good combinations, but Paul took many on his gloves.
The middle rounds were very tight with Silva getting a brief second wind. Paul landed hard shots in the late rounds as Silva was clearly tired. And in the eighth, Paul clipped Silva with a right, dropping him, at the end of a combination.
"Jake was better than me today," Silva said. "I have nothing bad to say about my opponent."
Paul's move into boxing doesn't seem to be slowing down any time soon. And now the polarizing pugilist has a win over a combat sports icon on his record to boot, albeit one well past his prime.
"If I were walking on water, people would say that I can't swim," Paul said. "So there's always gonna be haters, there's always gonna be critics."
In an undercard bout, former UFC fighter Uriah Hall beat former NFL star Le'Veon Bell via unanimous decision (40-36, 40-36, 40-36) in a four-round bout. Both men were making their pro boxing debuts, though Hall is a 17-year pro MMA fighter.
"This is the toughest sport in the world, and I give you so much props," Hall said in his postfight interview. "I'm proud of you, man. … He definitely surprised me. He's pretty good."
Bell, 30, knocked out fellow former NFL running back Adrian Peterson in an exhibition bout last month. The Ohio native is a former All-Pro and Pro Bowler in the NFL for the Pittsburgh Steelers, among other teams.
Hall, a 38-year-old Jamaican-born fighter who lives and trains in Dallas, is tied for the most knockouts in UFC middleweight history (8). He retired from the UFC last August. Afterward, Hall called out Paul for a fight.
"I'm the dude that's gonna come out here and expose him," Hall said. "If Anderson [Silva] doesn't do it, I'm gonna be the one to f— you up."
Read the original article