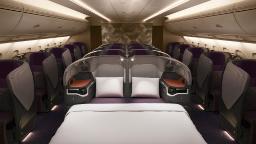 (CNN) — This week in travel: Europe's most underrated destinations, the world's spiciest foods and the airlines introducing double beds and high walls in business and first class.
The high life
Destination inspiration
When you've already partied in Paris, larked across London and frolicked around Florence, it's time to go deeper.
If you're looking to make your European adventure more permanent, Portugal has introduced a new temporary-stay visa geared toward remote workers, adding to several other options that make moving to the country possible.
Luxury stays
Sometimes in life, the happy opportunity comes along to go all out.
We're talking the whole nine yards — tropical island escape, French château, tented safari. All the bells-and-whistles with an eye-watering price tag for a completely unforgettable vacation.
Bold flavors
Making merry
Sniff the air. Can you smell that gingerbread drifting on the breeze? Christmas is so close you can almost hear the sweet tinkle of sleigh bells and Mariah Carey's laughter.
In case you missed it
Alongside hallucinations, the Sonoran desert toad's toxin can cause seizures and even death.
Explorers have found cameras lost on a glacier 85 years ago.
The Antonov AN-225 was destroyed earlier this year by Russian forces in Ukraine.
There's a lot more to Dubai than just skyscrapers and shopping.
Carrying on
Read the original article