"'The possibility of a Minsky moment in markets and geopolitics has increased. Even if central bankers successfully contain contagion, credit conditions look set to tighten more rapidly because of pressure from both markets and regulators.'"

— Marko Kolanovic, JPMorgan

That was a team of JPMorgan Chase & Co. strategists, led by Marko Kolanovic, weighing in on recent stress in the banking sector, which they say has piled more pressure on credit markets as central banks have raised interest rates to combat inflation.
Named after economist Harold Minsky, a "Minsky moment" refers to a sudden market crash caused by a sharp fall in investor confidence, which also marks the end of a growth phase for credit or business activity. The JPMorgan note, released on Monday, averred that it's likely the recent rescue of several U.S. banks has not really calmed markets.
The banking crisis of the past week has indeed increased nervousness. Bank of America's March survey of global fund managers, out Tuesday, revealed that a "systemic credit event" is now seen as the biggest threat to markets. Stresses in U.S. shadow banking and corporate debt and developed-market real estate could trigger such an event, said strategists.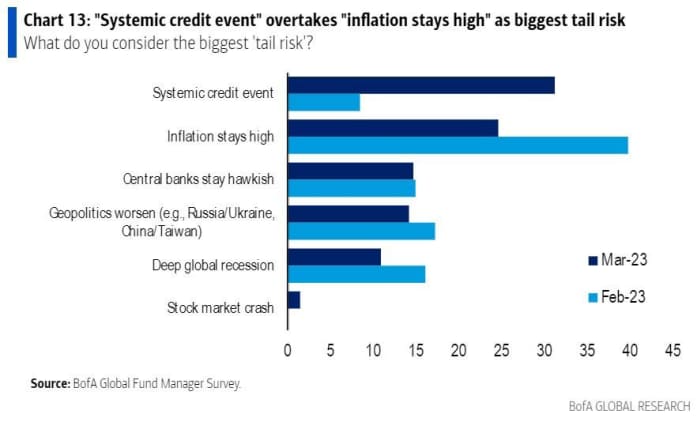 Kolanovic, the bank's chief global markets strategist, said the outbreak of stress in the banking sector will likely affect central banks for some time, as it has shifted the risks in their outlooks. A case in point, he said, was the European Central Bank, which, in addition to raising its key interest rate by 50 basis points, dropped its forward guidance and announced a higher core-inflation forecast last week.
Due to announce an interest-rate decision on Wednesday, the Federal Reserve is "already past the point of no return — a soft landing now looks unlikely, with the airplane in a tailspin (lack of market confidence) and engines about to turn off (bank lending)," he said.
Read: Fed likely to follow ECB's playbook and hike interest rates this week
Geopolitics are also hovering over investors. After having brokered an Iran-Saudi rapprochement, China's President Xi Jinping is visiting Russia this week as war continues to rage in Ukraine.
Overall, now is not the time to take chances, JPMorgan analysts stressed. "We stay cautious on risk assets which price in too little recession risk, while the banking crisis raises the prospect of a recession this year as credit is restricted," Kolanovic and the team said, adding that equity and credit volatility seems "complacent compared to unprecedented rate volatility."
Days of tension for financial markets got some reprieve on Tuesday, with stocks
SPX,
+0.58%
COMP,
+0.57%
sharply higher. Investors have been grappling with several recent bank calamities: Silicon Valley Bank, Signature Bank, Silvergate Bank and Swiss giant Credit Suisse
CS,
+2.25%
CSGN,
+5.22%,
which is expected to be taken over by rival UBS
UBS,
+9.79%
Shares of First Republic
FRC,
+35.72%,
another struggling U.S. lender, surged on Tuesday after a report that JPMorgan's Jamie Dimon was at work on another plan to keep the bank afloat. Meanwhile U.S. Treasury Secretary Janet Yellen said the stress on financials appeared to be "stabilizing" and vowed more U.S. support if needed, while a report indicated the U.S. Treasury was considering a plan to boost guarantees on bank deposits.
Market Pulse: First Republic's stock is on a record run. It's restored half of Monday's loss.
Kolanovic said his team is sticking to the prediction that the first quarter will mark the high point for stocks this year. "While parts of the market look short-term oversold, and there could be potential relief bounces, we advise sell into these," he said, adding that the next trade could be an underweight position on value stocks, adding that "one should be defensive in portfolio allocation.
"This call is predicated on the view that bond yields will move lower along with a likely end of PMI rebound soon, as the impact of past policy tightening starts to take full effect, and the positive offsets (e.g. the cushion of COVID savings and pricing power for corporates) erode," he said.
The strategist correctly predicted last summer's stock-market rally but went on to stand by his bullish view for most of 2022, which ended up being the worst year for stocks since 2008 as the S&P 500 fell 19.4%, according to FactSet data. 
Read on: U.S. lawmakers are donating or returning contributions from failed banks
Read the original article