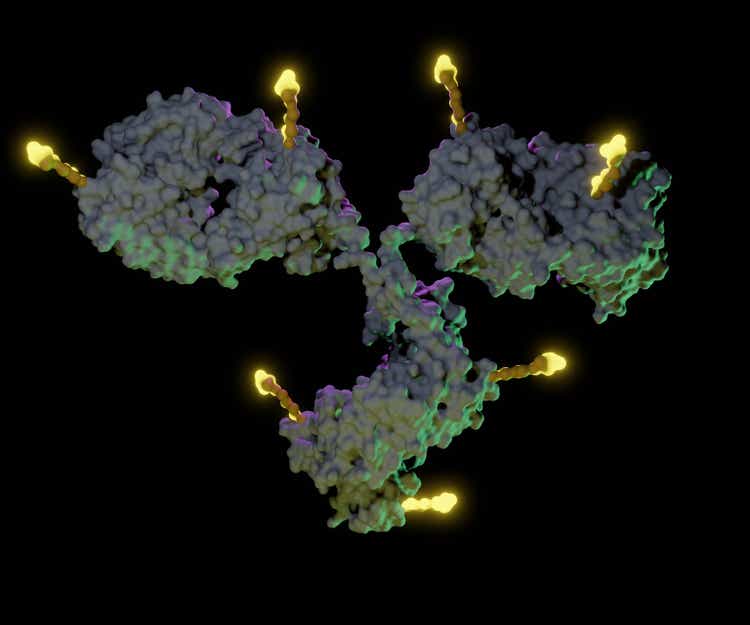 Pfizer's (NYSE:PFE) acquisition of Seagen (NASDAQ:SGEN), announced in March, is expected to complement the pharma giant's current portfolio of oncology therapies.
Seagen focuses on antibody-drug conjugates (ADCs), a technology that the company says can "harness the targeting power of antibodies to deliver small molecule drugs to the tumor."
The biotech has three marketed ADCs: Adcetris (brentuximab vedotin), Padcev (enfortumab vedotin), and Tivdak (tisotumab vedotin). They are approved for various types of cancer.
In addition, it markets a non-ADC, Tukysa (tucatinib), which is approved for breast and colorectal cancers.
On March 13, Pfizer (PFE) said it would acquire Seagen for $43B. Should the deal go through, it would be the biggest in the pharma sector since AbbVie (ABBV) paid $63B in 2019 for Allergan.
Despite the steep price tag for Pfizer (PFE), the payoff down the line is expected to be huge. In a recent report, data and analytics company GlobalData said Pfizer's (PFE) total cumulative revenue from Seagen's (SGEN) products is projected to hit $36B by 2028.
The acquisition comes at a critical time for Pfizer (PFE) as it is facing declining revenues of its COVID-19 vaccine and antiviral Paxlovid, two products which significantly padded its top line in recent years.
In its Q4 and full-year 2022 earnings report released in January, Pfizer (PFE) said that Paxlovid generated ~$19B in sales for the year. However, it warned that in 2023, that figure would decline 58% to $8B.
The good news for Pfizer (PFE) is that GlobalData sees the Seagen (SGEN) acquisition as a good fit. "What's most impressive…is Seagen's (SGEN) ability to develop a wide range of monoclonal antibodies, that target different cancer types," says GlobalData Oncology & Hematology Analyst Israel Stern. "This capacity will now be enhanced by leveraging Pfizer's (PFE) protein engineering capabilities."
Stern noted that all four of Seagen's (SGEN) currently marketed therapies are expected to have $1B in revenue in the next five years. Adcetris, the biotech's top-selling drug, is approved for several lymphoma types. GlobalData projects it will become a billion-dollar drug in 2024.
Padcev, which was developed with Astellas Pharma (OTCPK:ALPMF)(OTCPK:ALPMY) urothelial cancer, is projected to overtake Adcetris as its top-selling drug by 2024, Stern added.
Padcev could see additional use as it is currently under Priority Review by the US FDA in combination with Keytruda (pembrolizumab) for urothelial cancer.
Seagen's (SGEN) pipeline is also promising. Besides pursuing additional indications for its marketed products, it has two ADCs in phase 2, disitamab vedotin and ladiratuzumab vedotin. The former is under investigation for HER2 expressing urothelial cancer, while the latter for triple-negative breast cancer and solid tumors.
Read the original article