Christians worldwide celebrate Palm Sunday on April 2, 2022.
Palm Sunday, the commemoration of Jesus' final entry into Jerusalem before his crucifixion, death and resurrection, is also the start of Holy Week. 
It's a full-circle moment for the ministry of Jesus Christ, said Fr. Patrick Mary Briscoe, a Washington, D.C.-based Dominican friar.
"Consider the many times that Jesus entered Jerusalem. He first passed through the gates as an infant," Briscoe, who is also the editor of Our Sunday Visitor, told Fox News Digital.
FIFTH SUNDAY OF LENT: THE LESSONS OF LAZARUS ARE 'CAUSE FOR HOPE,' SAYS SOUTH CAROLINA FAITH LEADER
"His parents, Mary and Joseph, carried him in their arms when they approached the temple in fulfillment of the law of Israel," he also said.
As a child, Jesus once again passed through the gates of Jerusalem — this time, to observe Passover.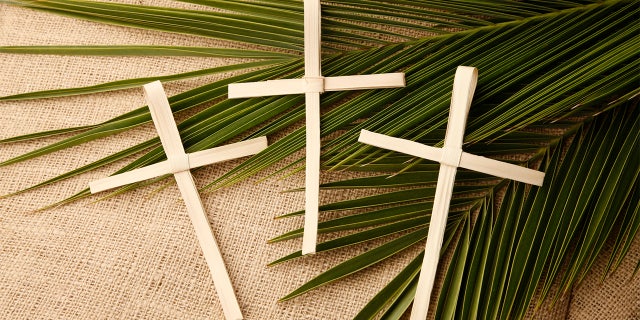 "On one occasion, his parents believed him to be lost, but they found him teaching among the scholars of the law," said Briscoe. 
As a grown adult, "Christ entered Jerusalem to observe holy days, according to Jewish custom," said Briscoe — adding that Jesus was not always welcome there. 
"[The apostle] John reports the Lord being driven from the city. The chief priests and pharisees had sent officers to arrest Jesus," he continued.
However, on what would be the last time Jesus entered Jerusalem, things would be different, he said.
FOURTH SUNDAY OF LENT: CHANGE WITHIN OURSELVES COMES FROM LIGHT OF CHRIST, NYC PASTOR SAYS
The Gospel of Matthew describes the scene in part with, "And when he entered Jerusalem the whole city was shaken and asked, 'Who is this?' And the crowds replied, 'This is Jesus the prophet, from Nazareth in Galilee'"(Matthew 21:10-11).
"During his triumphant last entry, the city receives him with great joy," said Briscoe.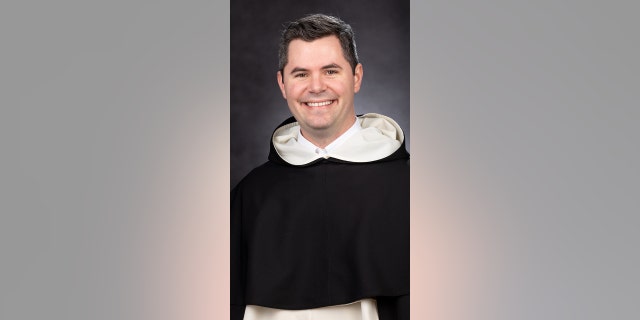 "Palm branches were held by crowds and coats were spread out on the ground before him," Briscoe continued. "Christ rode into the city on a borrowed donkey."
In Jesus' time, palm branches were used as a symbol of victory, he pointed out.
THIRD SUNDAY OF LENT: GOD WILL QUENCH OUR 'SPIRITUAL HUNGER AND THIRST,' SAYS BALTIMORE FAITH LEADER
"They were waved in adulation, often to celebrate military conquests," Briscoe said of the palms. "Green, fresh trimmings show the life that only the gospel gives. They are a sign of the new life of grace won for believers in the cross."
Some churches distribute palm fronds to congregants on Palm Sunday. The palms can also be folded into crosses and displayed in the home.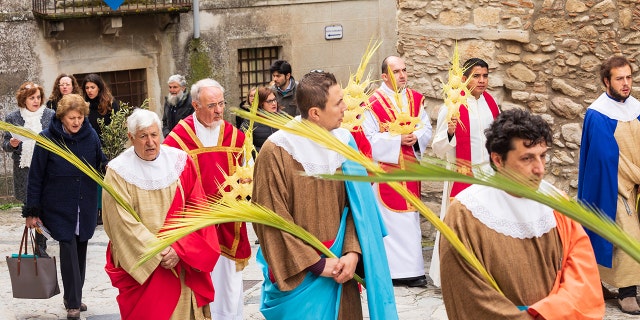 In Christian iconography, "martyrs are often depicted holding golden palms as a sign of triumph over the world," said Briscoe. 
The coats thrown by the people of Jerusalem and Christ's use of a borrowed donkey are also notable symbols. 
SECOND SUNDAY OF LENT: GOD'S GREATEST BLESSINGS MAY BE 'UNEXPECTED,' SAYS WASHINGTON PASTOR
"We can see in the coats a reference to Eden," he also said. "Our first parents [Adam and Eve] donned clothing after their first sin."
Said Briscoe, "By placing cloaks before him, the crowds show that Christ, triumphant, tramples the remnants and signs of our sin. By his victory we are transformed."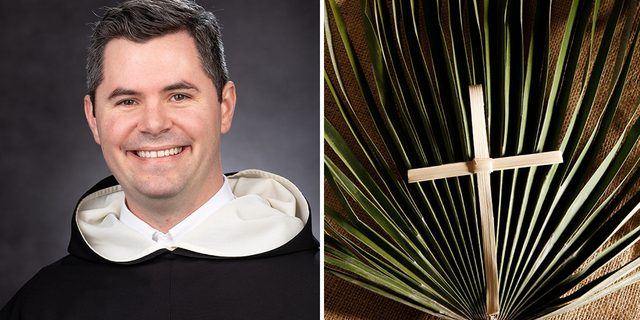 In addition, the use of a borrowed donkey is an act of humility on Christ's part.
"He doesn't ride a chariot or a warhorse. His conquest is of a different sort," Briscoe said.
"He fulfills a prophecy by riding the ass [mentioned in Zechariah], showing that his kingdom is one of simplicity."
CLICK HERE TO SIGN UP FOR OUR LIFESTYLE NEWSLETTER 
Jesus' "reign is one of peace," said Briscoe — and the use of a borrowed donkey "echoes the borrowed manger he was born in and the borrowed room where he would celebrate the Last Supper." 
He continued, "Even in these last moments of his life, he chose to live as a poor one among poor men and women."
CLICK HERE TO GET THE FOX NEWS APP
He also said, "Who is this man, we cry? He is our savior, he is our Lord."
He added, "He is the one who brings victory over sin. This victory will reign in our hearts when we conform to his pattern of life: one of humility, simplicity and peace." 
Read the original article