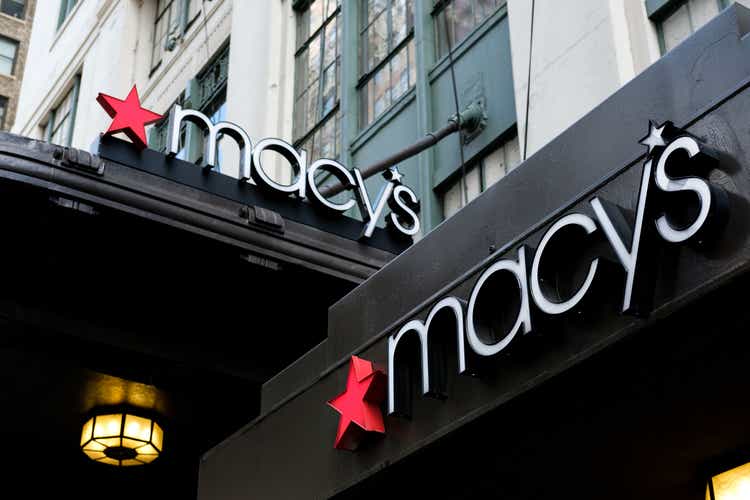 Macy's (NYSE:M) fell sharply in early trading on Thursday after the department store operator cut its full-year outlook on the assumption that macroeconomic pressures on consumers will worsen.
Looking ahead, Macy's (M) now expects FY2023 sales to fall in the range of $22.8B to $23.2B vs. the prior range of $23.7B to $24.2B and the consensus estimate of $24.01B. EPS of $2.70 to $3.20 is anticipated vs. the prior range of $3.67 to $4.11 and the consensus mark of $3.71.
CEO Jeff Gennette said the revised guidance reflects incremental clearance markdowns to address excess spring seasonal merchandise in the second quarter, along with adjustments to the category composition and inventory levels in the back half of the year. Macy's (M) noted it is taking a cautious approach to the remainder of the year and the guidance cut reflected anticipated macroeconomic impacts to the consumer. On the low-end, updated guidance is said to assume macro pressures on the consumer worsen, while the high-end assumes heightened macro pressures experienced in mid-March through April persist. The clipped guidance also incorporates Q2 markdown actions Macy's (M) is taking to clear out spring transitional and early summer categories to support clean end-of-quarter inventories as well as higher annual shortage rate than previously anticipated.
The overall tone from Macy's (M) was indicative that the key back-to-school and holiday seasons could be impacted by the economic backdrop.
Shares of Macy's (M) slid 9.05% in premarket trading to $12.33 vs. the 52-week trading range of $13.42 to $25.12.
More on Macy's
Read the original article