A tourist at Wyoming's Yellowstone National Park was caught on video taking a selfie dangerously close to a bison last month.
The encounter was captured on video on May 20 in Biscuit Basin and shows a woman standing over a bison that was lying down in the grass.
The person who recorded the video told Storyful that they were in a "bit of disbelief" as they stood in a parking lot and witnessed the woman risk her well-being and the bison's for a selfie.
"We felt horrible for the bison," the witness said. "We knew if it just inadvertently stood up, she would be gored, and it would most likely have to be euthanized through no fault of its own."
YELLOWSTONE NATIONAL PARK OFFICIALS SAY MAN DISTURBED BABY BISON, RESULTING IN ITS DEATH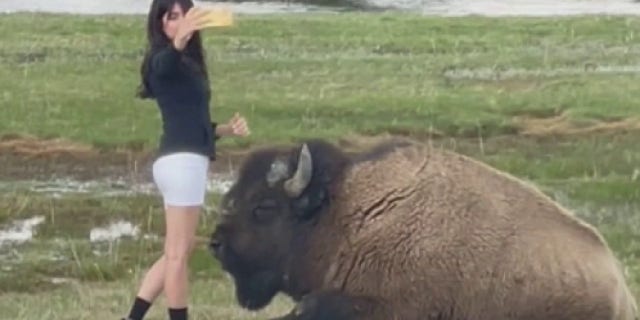 The National Park Service (NPS) warns visitors to stay at least 25 yards away from all wildlife, including bison. Those who disregard the park's regulations may face fines, potential injury and even death, according to the agency.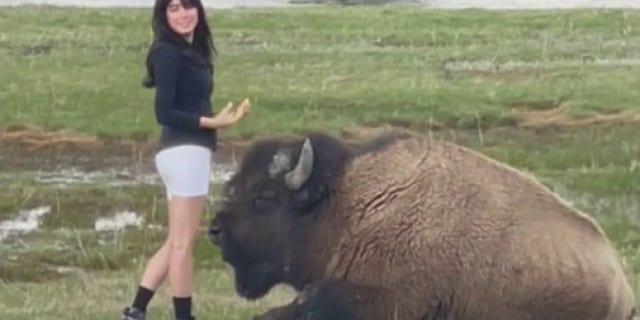 "The safety of these animals, as well as human safety, depends on everyone using good judgment and following these simple rules," NPS says.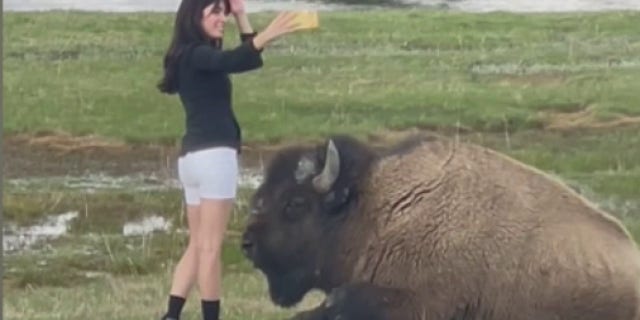 Park officials have said bison have injured more visitors in Yellowstone than any other animal. The park described bison as unpredictable and noted that the animals can run three times faster than humans.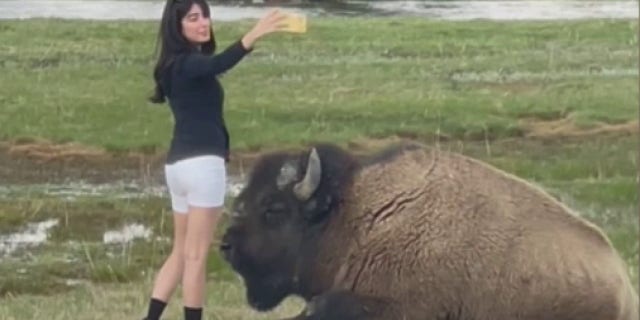 YELLOWSTONE NATIONAL PARK: THINGS TO DO AND SEE, WHERE TO STAY, AND MORE
The video was taken on the same day that another tourist was recorded trying to pet a bison that was grazing by a pathway. That bison was seen lowering its head and lunging at the woman with its horns. The animal snagged the tourist's sweater, but she managed to break loose and appeared unharmed.
In another recent incident, a Hawaii man is facing charges after Yellowstone staff euthanized a newborn bison calf that he is accused of interfering with, causing the herd to reject the baby. 
Last year, a bison at Yellowstone gored a 25-year-old Ohio woman and tossed her 10 feet into the air after she got too close to the animal as it was walking near a boardwalk at Black Sand Basin, just north of Old Faithful.
FOX News' Chris Pandolfo contributed to this report.
Read the original article